David Jones
eStar & David Jones
A world class solution
David Jones, Australia's leading premium upmarket department store, replatformed to eStar in May 2018 and have seen rapid growth since. David Jones needed to make a significant step forward and required a highly capable enterprise solution with significant scalability and flexibility. eStar's capability and passion for partnership with David Jones has helped deliver excellent results.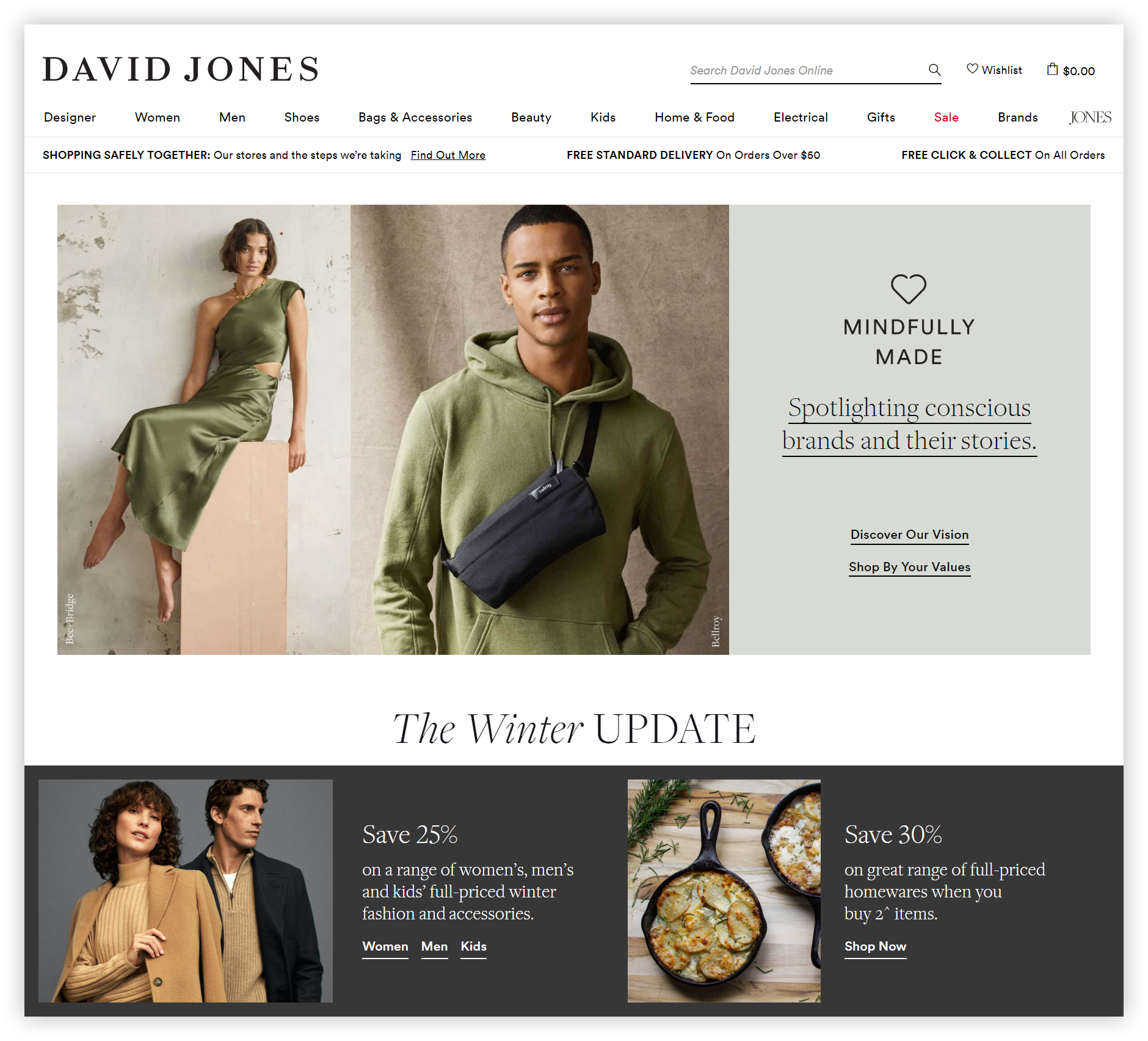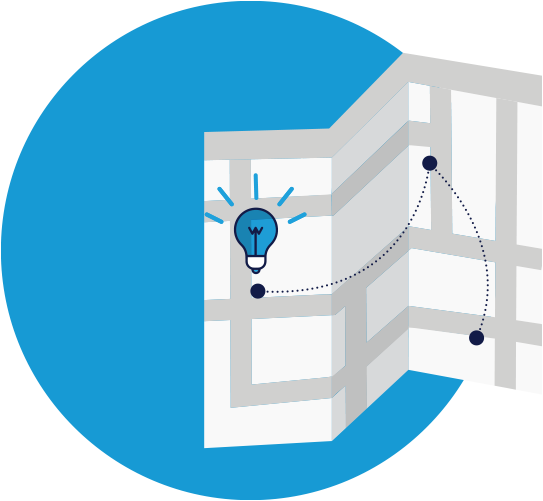 David Jones is part of Woolworths Holding Limited, whom have had a strong relationship with eStar over many years. eStar have supported the Country Road Group (another Woolworths Holding Limited business) since 2010. On the back of that success and demonstrated capability, eStar was selected to help take David Jones' eCommerce efforts to the next level.
David Jones were already operating a large scale eCommerce business and a complicated collection of systems. The flexibility of the eStar platform was able to cater to this, whilst also delivering improvements and features that resulted in immediate growth.
eStar were able to meet David Jones comprehensive business requirements and deliver a fully responsive eCommerce website providing a much improved experience across mobile devices. Site speed, conversion and average transaction value all increased immediately upon going live. And online sales in the first year were up 47% and accounted for more than 7% of total sales in the business.
David Jones leveraged the core eStar platform and engaged eStar to develop additional customisations to support their unique requirements. The new site allowed David Jones to better leverage their store network to drive online success. The new site enabled Seek & Secure, Boutique Click & Collect and Instore Fulfilment, all of which have been major drivers for success.
The greatest complexity of the project was the requirement to integrate the platform with a broad range of systems, other vendors, complex fulfilment processes and payment providers seamlessly and without a negative impact on sales. This was achieved through eStar's constant communication and support throughout the implementation process.
After going live, David Jones have been able to leverage eStar's dedicated development resources and account management to drive rapid ongoing improvement and outcomes. This has helped continue to deliver significant sales growth. Replatforming with eStar has been a success and has laid strong foundations for David Jones' future online growth and success.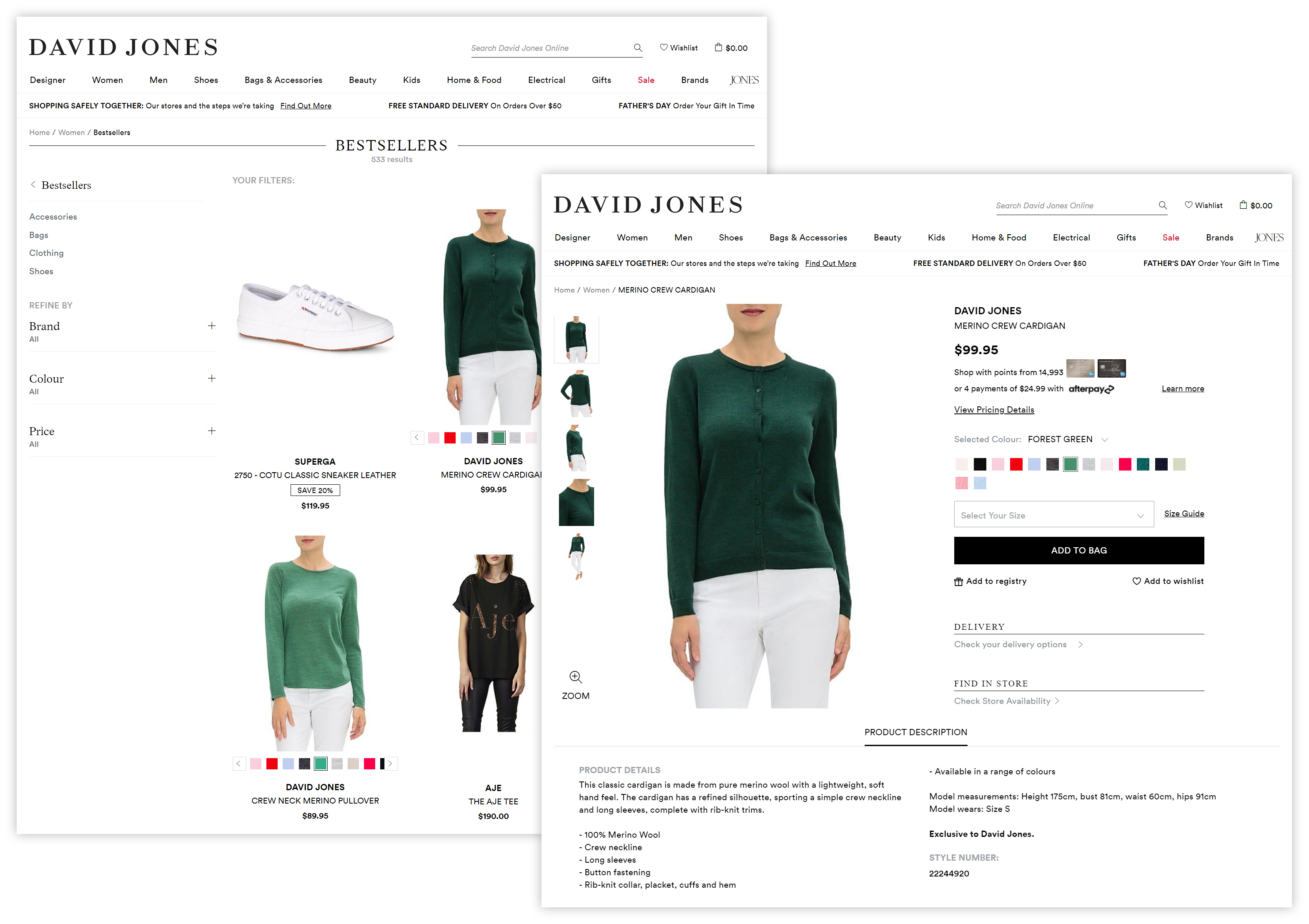 Download Case Study
* Required fields
pricewasnowsavefromtoapprox