taking shape
Taking Shape
In an environment where the physical shopping experience for the Taking Shape target market can at times be a challenge, Taking Shape a leading plus size brand, has worked hard to develop a service offering that delivers great shopping experiences online.
Taking Shape teamed up with eStar to develop a rich digital shopping experience aligned to the buying and information gathering needs of their target consumer - plus size women looking for fashionable and affordable women's clothing.
if you would like to speak to the same people who continue to work with Taking Shape
Below are brief examples of how eStar's retail expertise, eCommerce technology, and drive to always be introducing proven eCommerce technology innovations, combine to support Taking Shape's retail strategy:
Size Guide content and functionality
With a target market that can be "size- sensitive", it is crucial to accurately communicate size content at the right time of the consumer journey. Not only are eStar's page layouts highly flexible allowing size-content elements to be placed anywhere on the site and anywhere on the product detail page, eStar has flexible secondary content modules allowing Taking Shape the flexibility to communicate sizing however they like.
As you can see by the screenshot here, Taking Shape has a great mix of content and video to effectively communicate the sizing story.
To further enhance the sizing experience, eStar's administrative functionality delivers seamless, scalable online returns processing. This allows Taking Shape to offer "easy returns" services to their customers.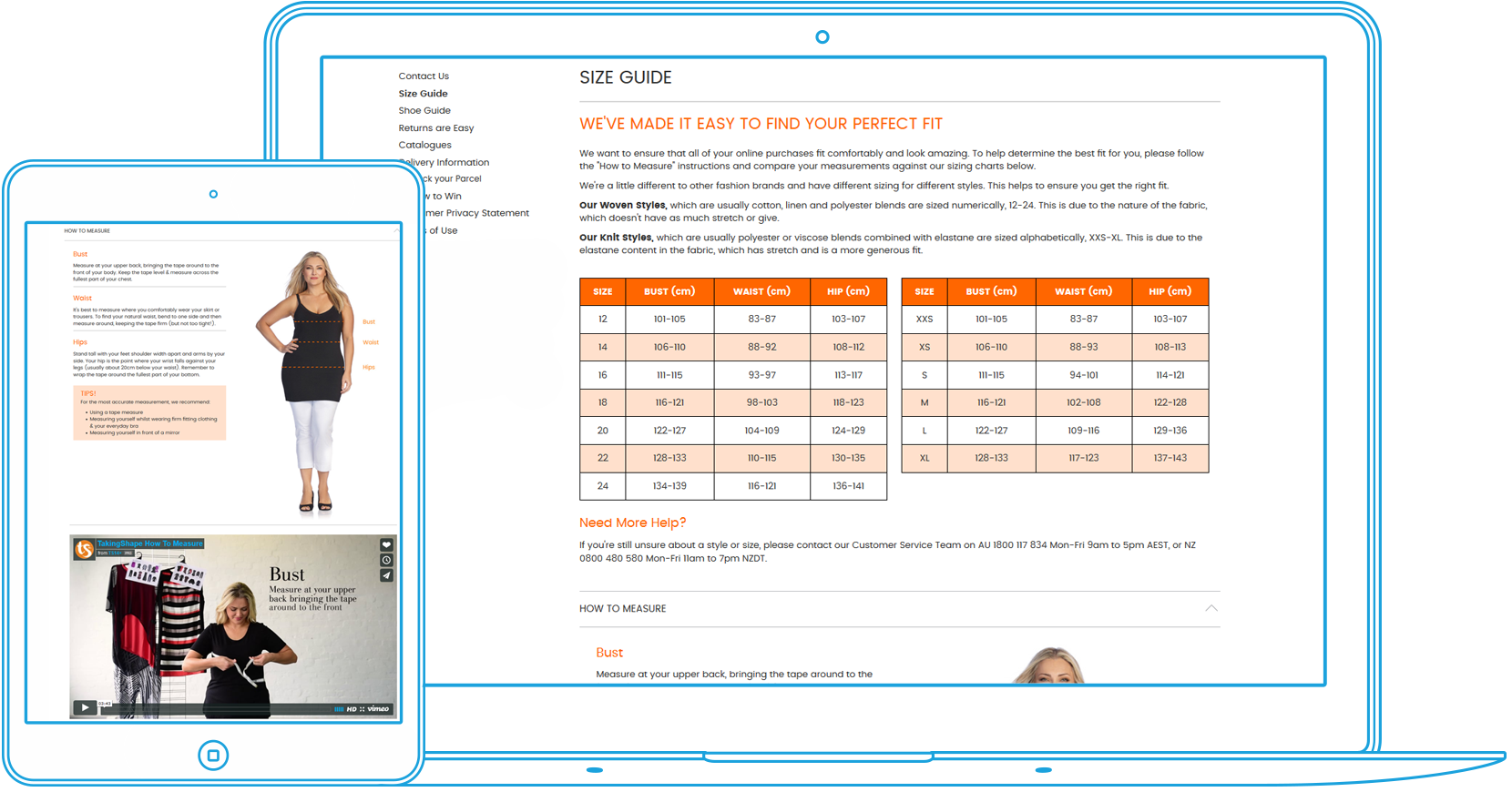 Taking Shape's Site Search experience both quick and visual
Taking Shape recognises there are consumer-types who need guidance. To assist with this shopping behaviour, eStar worked with SLI Systems to implement search functionality to immediately deliver a mix of highly relevant results with product features.
The ability to feature products with imagery and pricing allows Taking Shape to be strategic when consumers use specific keyword searches. See the screenshot below, once the letters "dre" are typed into the search box, there is an immediate presentation of dress categories and specific products.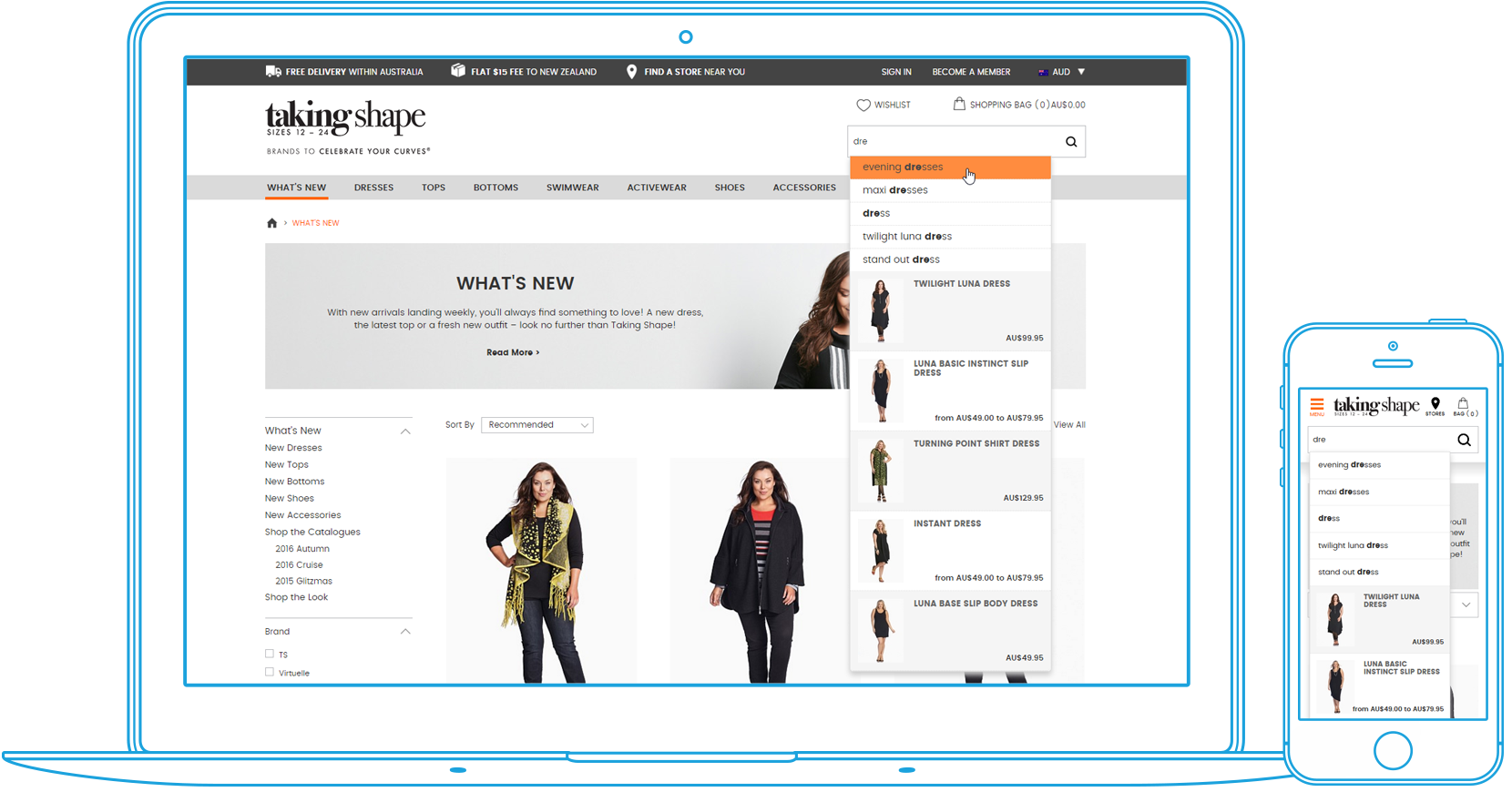 The result of the eStar eCommerce site search functionality supporting Taking Shape's retail strategy has delivered conversion rates 50% higher for those consumers who use the site search compared to those who don't.
Shopping cart experience
Once a consumer finds what she is looking for, Taking Shape wants to deliver a seamless and smooth shopping cart experience but at the same time deliver content when the consumer needs it.
The first step of the checkout process is globally notorious for losing people. eStar worked closely with Taking Shape to ensure all the right content elements are effectively laid out on the Shopping Cart page to reduce the incidence of this bailout behaviour.
As shown below, over and above the standard order presentation elements, Taking Shape wanted to reinforce delivery messages, send a quick message to existing "CYC – Celebrate your Curves" members, and provide one last opportunity to present products to purchase.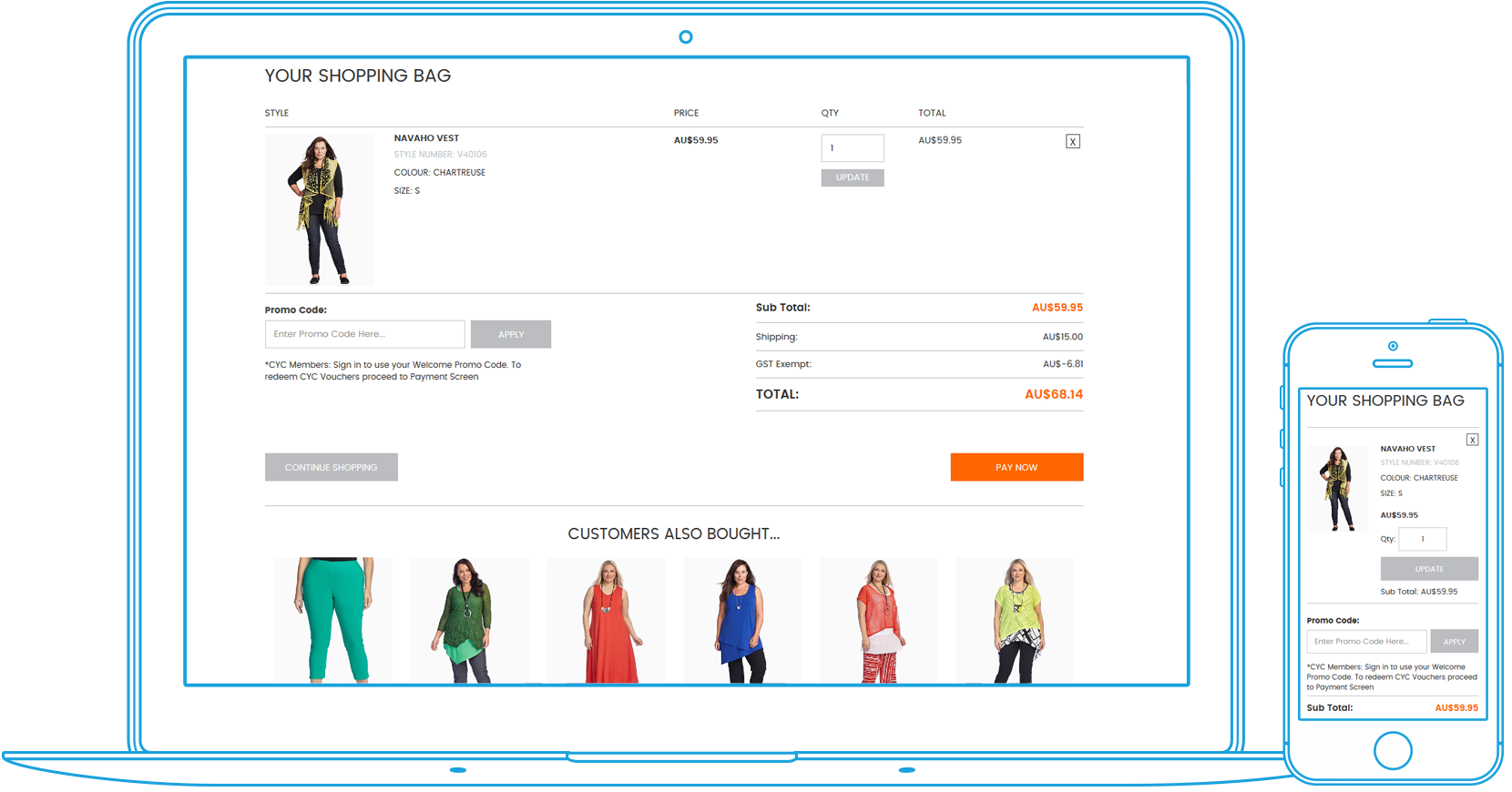 The confidence built in this first step of the checkout process has resulted in an average funnel conversion rate of 73% (73% of consumers who land on the shopping cart page end up completing the checkout process). This is an exceptional performance when considering the average global checkout bailout rate has been cited as averaging 68%*
if you would like to speak to the same people who continue to work with Taking Shape.
pricewasnowsavefromtoapprox