Google recently published data on the online behaviours of the New Zealand consumer as of mid-2015
By Greg Randall
First Published by EConsultancy on 6 March, 2016
Though none of Google's findings is breaking news, what's important for NZ retailers is not the data itself, but how to respond to it.
This article reviews the four key insights and provides guidance on how retailers could (and should) respond to build greater customer experiences.
Buying Intent vs Persona Development
Before reviewing the insights, keep in mind a statement made late last year (October 2015) by Google's Lucas Watson, VP of Global Brand Solutions...
Intent trumps identity every time.
Sure there are marketing uses for demographic information, however, the point Lucas conveys is retailers need to worry less about a consumer's demographic make-up and focus more on how they behave when they have identified a need to be fulfilled.
The ubiquity of content and devices to access this content makes it difficult to predict buying patterns from fixed personas wrapped in a demographic profile.
While it may help marketing teams to know Suzie is a working mum of three who lives in a middle-class neighbourhood, when she wants to purchase something for herself or her family the journeys she takes will be different each time.
This is the case even if Suzie is purchasing the same product a second or third time.
For example, Suzie could be repurchasing the same eyeliner but one purchase could be on her own smartphone, and the next could be on her work laptop.
What does this mean to retailers? Instead of figuring out how and when Suzie is going to buy eyeliner, think about how women will be looking for eyeliner when they need it (intent) and understand how they behave once this intent is triggered.
This becomes the foundation thinking for customer experience design and helps shape the recommendations in the rest of this article.
Now for the insights...
Insight #1: Kiwis use their smartphone as much as desktop
Of all the mobile phones currently in use in New Zealand, 88% are smartphones. This indicator of the connected NZ consumer translates to big opportunities.
The takeaway from this insight is nothing new: improve the retail smartphone experience.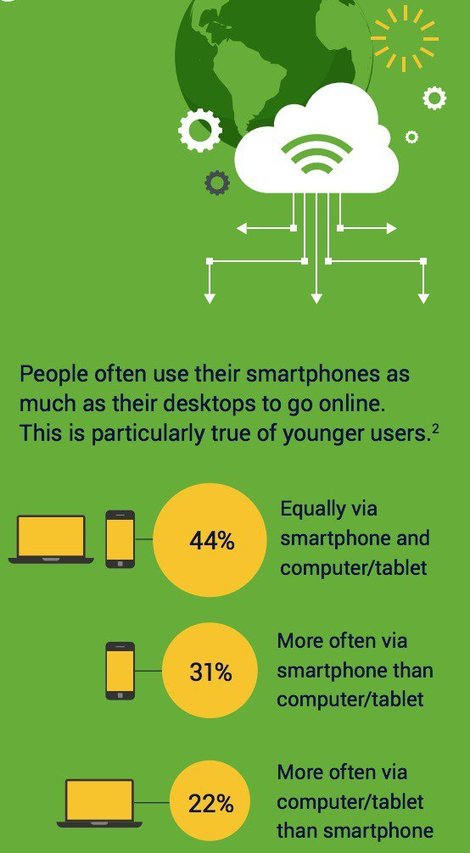 Warning to retailers. Improving the smartphone experience is not simply having your ecommerce technology vendors build a responsive website. Far from it.
This is one of the more common traps retailers fall into.
The Nielsen Norman Group agrees with this trap and has this to say about responsive design:
Some companies may think this (responsive) implementation technique frees them from considering usability of both their mobile design and their desktop design.
Just because an implementation allows the same code to rewrap and display on many different screen sizes doesn't mean the resulting interfaces will be decent, let alone optimized for use with any given device category.
Before leaping into designing for specific screens, retailers need to take a step back from touchpoints (devices, APPs, bricks and mortar) and construct end to end experiences they want to deliver to their target market(s).
Retailers need to ask themselves questions like, "How can I build a great experience for women looking for eyeliner products across all touchpoints?"
Only once this helicopter view is clear can the retailer then revisit each of the touchpoints and apply value driven journeys across each.
A mixture of best practice usability/user experience, knowledge of how existing consumers buy eyeliner products, and the desired eye liner experiences the retailer wants to create, all fuse together to define the treatment of a responsive design.
Insight #2: The internet is now a key part of the NZ consumer buying journey
The internet was used in 53% of recent purchase journeys leading to either an online or offline purchase.
The most common activities by Kiwis are gathering information on:
Pricing

Promotions

Product availability

This insight suggests retailers need to achieve a few things:
1. Looking for prices
Looking for pricing suggests the NZ consumer could be on a competitor site or in a physical store comparing pricing.
To support this behaviour retailers need to ensure their product range is fully represented online and the pricing is accurate. If products are on sale, make it clear and obvious.
2. Looking for promotions & deals
Typically, the first action consumers take when responding to good above-the-line campaigns is to check it out online with the most readily available device: a smartphone.
To support this behaviour retailers need to ensure all calls-to-action in their communications lead consumers directly to relevant event landing pages.
Coordinating inventory and pricing systems in time with marketing communications sounds easy, but its not. The CIO is a key figure in this challenge and solution.
Many times above-the-line communications drive consumers to a retailer's homepage.
To support and accommodate this behaviour, retailers need to place content (i.e. tile or banner) on the homepage aligning to the promotion.
This content redirects consumers to a section of the site dedicated to communicating the sales event and offers.
Don't attempt to fully represent the offers on the homepage, retailers will not do the campaign justice and it creates unnecessary noise for those consumers not coming to the site for the promotion.
Read more about what content is best suited on the home page.
3. Looking for product availability
Many retailers are not yet fully on board with the connectivity of inventory systems and presenting product availability for each of their physical store locations.
As consumers become busier and have less time to physically "browse", this checking product availability behaviour will grow.
Google conducted a survey and found "one in four shoppers say they'll steer clear of a nearby store altogether to avoid the risk of items not being available".
A good example of an NZ retailer making this work is Farmers Department Store. Its in-store stock checker on the smartphone is intuitive and easy to use: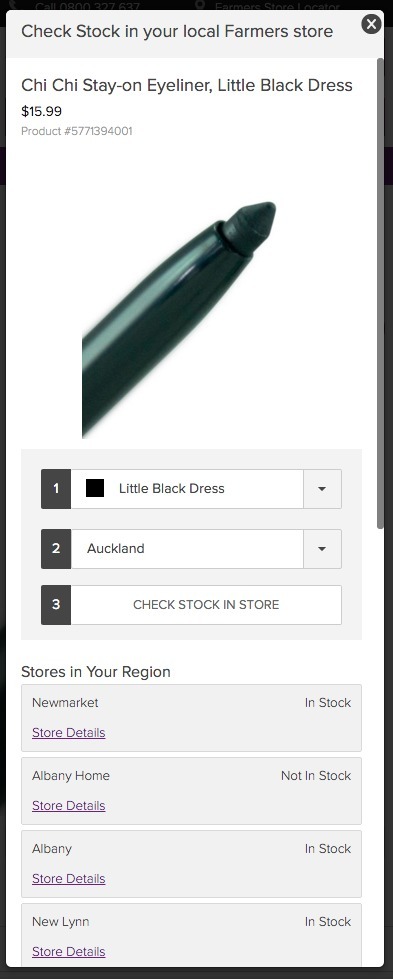 Retailers who think stock availability content is a deterrent to driving foot traffic in store have got it wrong. It drives foot traffic.
Consumers who are hesitant in making a trip to a physical store are the ones who check stock.
Insight #3: The NZ consumer shops internationally
The NZ consumer has three primary reasons as to why they shop with international retailers:
Better product availability

Broader ranges of products

The perception of more appealing offers
The key for NZ retailers is to build value-driven interactions across the varying touchpoints, but more importantly it's how NZ retailers treat and leverage their physical bricks and mortar locations.
When NZ consumers interact with international sites they are exposed only to digital touchpoints. Through the use of bricks and mortar, NZ retailers improve their capability to:
Develop greater interactions and experiences with consumers.

Provide multiple delivery options for consumers.

Provide multiple returns options for consumers.
If Suzie did not like the colour of the eyeliner she purchased online, she could return it in-store and meet a beauty advisor to discuss and test what colours best suit her skin tone for future purchases.
Once the purchase has been completed, Suzie could then reference the eyeliner colour in her own 'My Account' area to ensure she orders the right one in the future.
Digital-only touchpoints cannot compete with these experiences.
Scott Galloway, who heads L2 Business Intelligence talks openly about the 'death of pureplay'.
Insight #4: The NZ Consumer watches online video
70% of Kiwi internet users watch online videos weekly, rising to 92% for those under 35-years-old.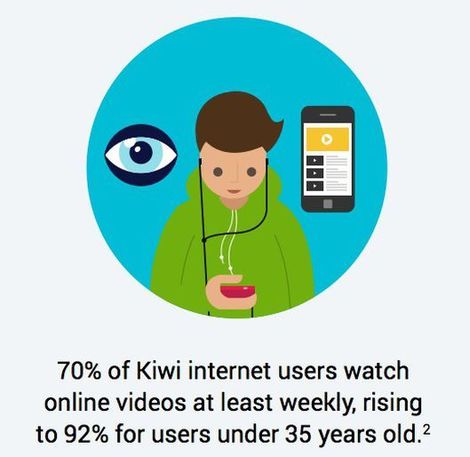 This NZ Consumer video consumption behaviour provides retailers the opportunity to build and enhance consumer connections via a content strategy to capture them early and in many instances before intent has been created.
Google's deep understanding of consumer behaviour on YouTube has created four consumer behaviour classifications for those who watch video:
"I want to watch what I'm into"

moments. Watching video content in line with passions and interests. These are people wanting to be entertained.

"I want to know"

moments. This is learning, exploring or researching behaviour. These are people who want to build their knowledge on specific topics.

"I want to do"

moments. Instruction videos. "How to" searches on YouTube have increased 70% year on year.

"I want to buy"

moments. Consumers are gathering information and using video to help make a purchase decision.
This insight forces retailers to ask the question of where their own brand position fits within any or all of these video consuming classifications.
If there is a natural synergy with one or more of these moments, creating video content to match and compliment these behaviours allows retailers to been seen as adding value.
This provides strategic direction for a retailer's content creation plan.
One good example of this in action is Sephora.com which has a substantial library of video tutorial content. One example is a video titled "The No-Makeup Look, Makeup Tutorial" with over 1.1m views.
Sephora knows if Suzie needs help in applying eyeliner, there is a good chance she will head to YouTube looking for tips.
Through Sephora's visibility strategy the brand ensures Suzie finds its "How to apply eyeliner" to help answer her questions and in the process builds a connection.
Though these insights are New Zealand specific, the recommendations apply to all.
See the full NZ consumer barometer report here.