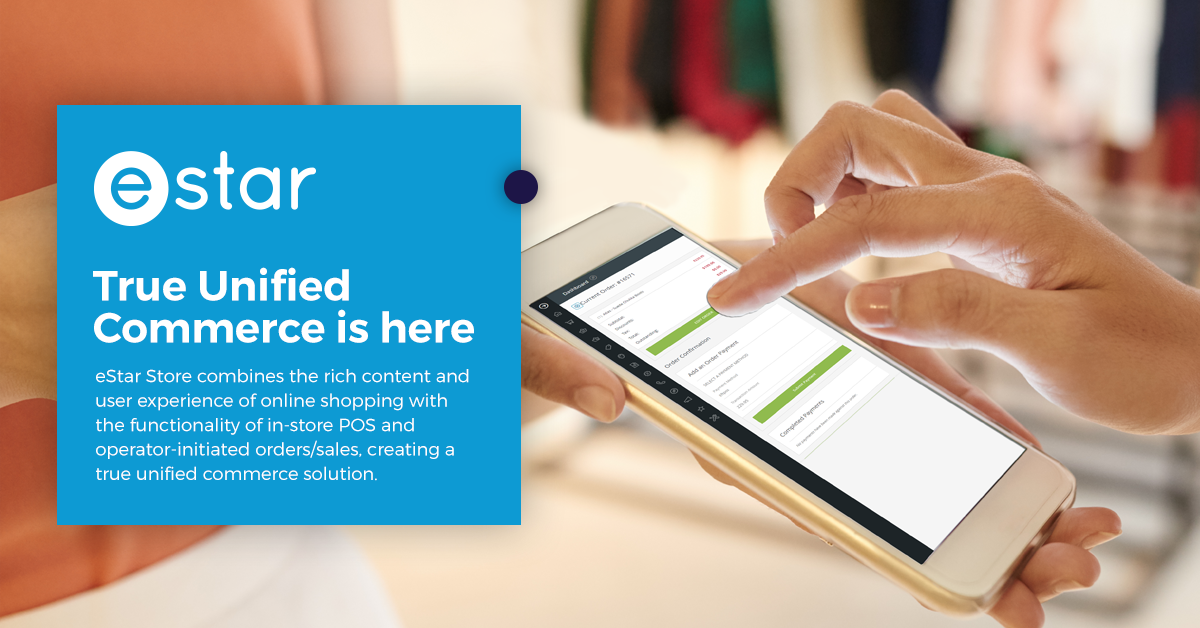 Unified commerce was a burning topic at the Online Retailer Conference held in Sydney last month, and one eStar addressed in its presentation in the Omni-channel conference track. Below is a short summary of the eStar session.
eStar's CEO Andrew Buxton and CTO Matt Neale explored how the rapid changes in consumers' expectations have created an imperative for true unified commerce. Four major themes emerged:
What customers really want in the modern buying journey
Unified commerce is here and it's beyond the omni-channel promise
Overcoming the barriers to unified commerce
How the eStar Store fits retailers' strategy
What customers really want in the modern buying journey
Andrew and Matt discussed the four major trends emerging across the current retailing landscape:
Customers want their loyalty recognised and rewarded
In their busy lives, consumers place a high premium on convenience
Irrespective of location, consumers expect access to the same service and information
Consumers expect to see the right product at the right price at the right time
Retailers can utilise technology to gain a better, unified view of the customer, along with advanced customer behaviour analysis. 'Commerce systems' will replace the current separate POS and eCommerce systems, allowing analysis of buying history of online customers and influencing the future experience for shoppers.
When making decisions around which technology to invest in, retailers need to focus on the advancements that will improve the overall customer experience.
Unified commerce is here and it's beyond the omni-channel promise
An integrated in-store and online experience is no longer a nice-to-have. It is now a matter of survival in the competitive landscape.
An unforgiving retail environment does not leave room for businesses struggling to adapt to rapidly evolving customer purchase journeys, using systems that have limited integration capabilities.
eCommerce solutions are already leapfrogging POS, with the ability to perform everything that POS terminals do, while providing richer data about customer journeys and can be centrally updated. This ability to easily adapt to online and in-store environments is one of the many reasons eStar has prioritised it in our roadmap.
This opens up the limitless potential of integrated data – a single view of the customer's interactions and purchases, whether in-store or online – allows retailers to proactively help their purchase journey.
eStar's distributed order management system enhances productivity by automating key order processes, providing the ability to orchestrate complex order workflows for multiple processing scenarios through to fulfilment, with minimal human intervention.
Overcoming the barriers to unified commerce
Unified commerce is not a goal in itself, instead it is the enabler for placing the customer experience front and centre of the retailer's strategy. One of the biggest roadblocks is disparate and disconnected technology and systems.
By centralising data and transactions on one integrated platform, retailers gain a single source of truth that delivers accurate and up-to-date information, with no need for duplication or manual processes.
The ultimate unified commerce platform combines in-store POS, mobile, web and order management in one place and gives retailers the ability to have real-time access to inventory, order visibility and customer/loyalty information anywhere.
How the eStar Store fits your commerce strategy
The eStar Store combines the rich content and user experience of online shopping with the functionality of in-store POS and operator-initiated orders and sales, creating a true unified commerce solution. It gives retailers
One system for online, in-store and serviced sales
One channel for all sale receipts
One platform for a complete view of the customer
eCommerce-grade scalability
Integrated address book and digital wallets
If you would like to see eStar Store in action and understand how true unified commerce can work for your business, arrange a personalised product tour with an eStar expert now.