Over 30,000,000 mobile phones are reportedly in use in Australia alone*. As smartphone functionality continues to develop, with higher resolutions and larger screens along with faster 3 / 4G networks leading to more data use, it is crucial for retailers to keep enhancing the experience to cater for the browsing and shopping behaviours of their customers.
EstarOnline is proud to have launched new mobile optimised sites for Country Road, Trenery, Witchery, and Mimco.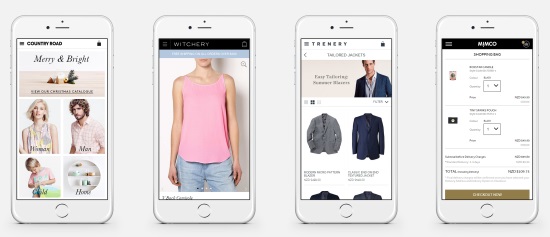 Designed by Reactive, powered by EstarOnline, the sites offer a targeted, rich, adaptable and tailored interface. New features include enriched imagery display, easy product browsing options, better mobile catalogue display and an improved checkout navigation and stored payments system.
Mark Appleford, Country Road Group Omni Channel Manager, says of the outcome: "We were very, very happy with the whole process, and especially the deployment which went flawlessly. The deployment team at Estar absolutely nailed it, the sites did not miss a beat, in what was more of a re-launch than an upgrade, with a raft of new features and design that we need to stay competitive."
Richard Berridge, EstarOnline Account Director commented : "The Country Road group mobile retail sites are world class- stacking up favourably against comparable offerings in the APAC region and beyond. I'm very proud of all the hard work put in by the team at Estar which again has delivered a high quality solution for the Country Road group, and ultimately its many customers worldwide."
* ACMA Communications report 2013–14 http://www.acma.gov.au/~/media/Research%20and%20Reporting/Publication/Comms%20Report%202013%2014/PDF/Communications%20report%20201314_LOW-RES%20FOR%20WEB%20pdf.pdf