eStar Client Services and Partner Manager Kylie Williams discusses why it still pays to be face to face.
Online Retailer is Australia's largest eCommerce conference and expo - uniting a plethora of eCommerce, digital, marketing and retail leaders for over 10 years.
After what seemed like a very long hiatus (the last in person Online Retailer was in 2019), and with so much have happened globally where business and the communities have adjusted to different journeys, different ways of interacting and different ways of living, the 2022 Online Retailer at the International Convention Center in Sydney drew much awaited anticipation.
Whilst the weather wasn't as exceptional as we hoped with persistent rain, the doors finally opened on Wednesday morning and the rush and excitement of the event began.
Collectively there was over 130 vendors and hundreds of retailers, interested parties, suppliers, and vendors. The room was packed brightly with stands, interactive equipment and of course, a lot of freebies and collateral. The entrance walkway was guided by the pink Klarna runway sticker and there was Afterpay coconuts in most hands.
Afterall who can refuse a mocktail! The ceiling held a few large overhead signs making it easy to spot a vendor from any location of the room. And the commotion of conversation and excitement of discovery was heard from every corner.
Over the two days the large centre was packed with some that had travelled from far and wide, including all around Australia, New Zealand and further abroad. Presentations, Podcasts, and talks were all packed with keen listeners as knowledge and experience were shared with many.
There were several firsts that occurred - there was Klaviyos first appearance at an Online Retailer, there was StarshipIt's launch of their new branding and logo and a new order management and fulfilment solution www.viare.io
Growth in online sales, with increased expectations and sophistication of customers has driven demand for much greater flexibility and capability for retailers to manage their online orders.
This has led to easy-to-use solutions around managing fulfilment issues being topical. Fulfilment networks are becoming more complex, with 3rd party logistics, distribution centres, stores / "dark stores", digital & dropship being commonplace – the sophistication of this is well beyond the native capabilities of traditional systems.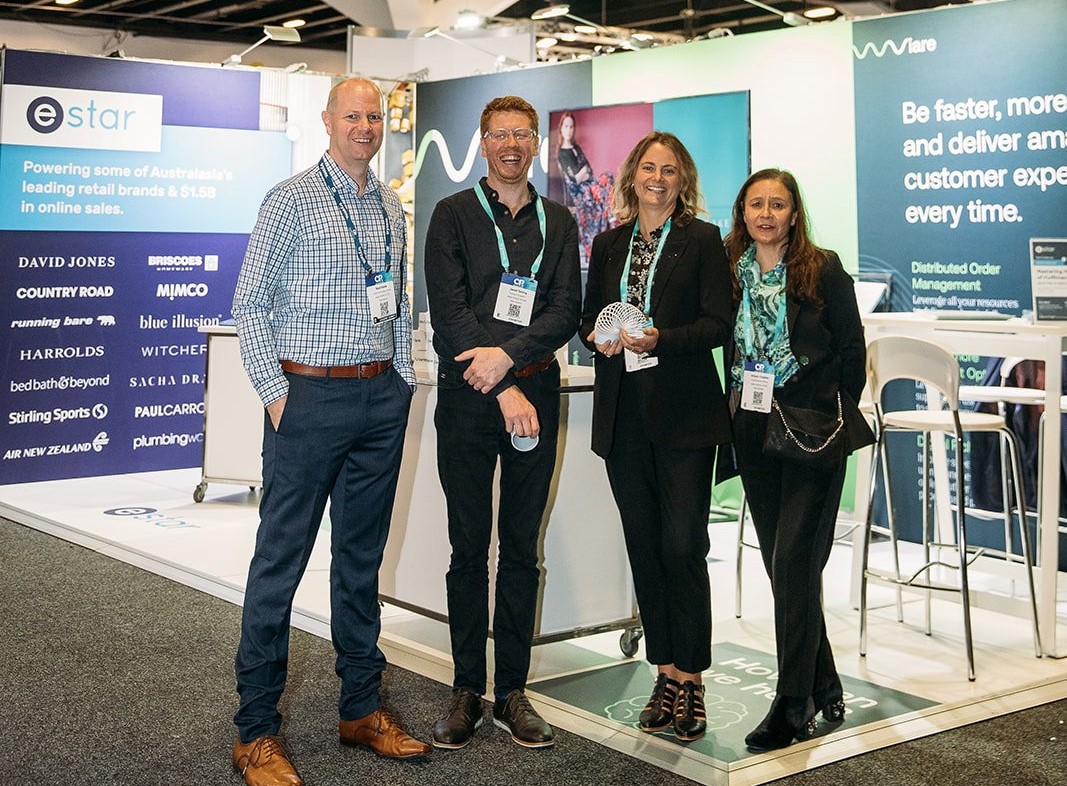 One of the other highlights during the 2-day conference was being able to connect face to face with Partners. During the pandemic we got so accustomed to meeting and greeting over Zoom, holding regular catch ups, and discussing mutual opportunities where there was a screen and internet connection holding us together.
Online Retailer was a chance for many of us to have our first in-person meeting, to finally greet each other face to face. In some instances, without a laptop surrounding us from our shoulders up, it took a few moments to recognize each other. The novelty of meeting again was exciting and overwhelming, as well as overdue!
But it gave us all the opportunity to meet Partners and others in the industry we had built relationships with over the years or re-engage. Clients were also able to meet vendors and partners alike in person and the ability to meet prospects.
The event ended with a beautiful evening at the ORIAS Black Tie Awards celebrating online successes across several categories with many potential recipients who were all deservingly recognized. The host started the evening with a number from broadways Hairspray and it ended with dancing the night away.
If you didn't quite make this year head over to Linkedin to see everyone posts and make sure you keep an eye out for the 2023 event and get face to face!