The shift to online retail in the wake of COVID-19 over the past few months has been extraordinary. Our clients have experienced sales well in excess of Christmas and peak periods and many times larger than the same time last year. It makes eStar incredibly proud that our clients can achieve rapid scalable growth during a difficult retail environment.
The graph below indicates just how big of a change we have seen across our clients.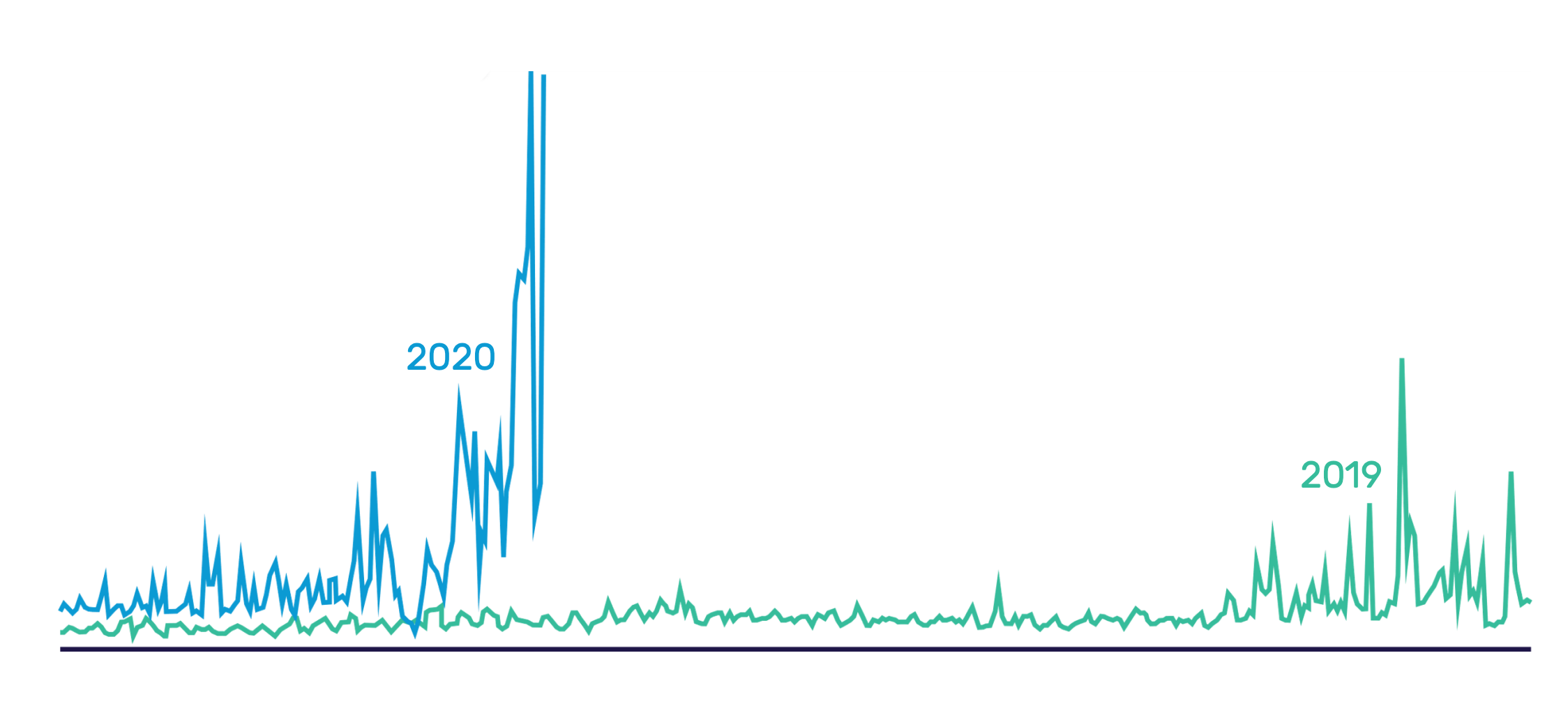 We've noted that a tidal wave in online sales has resulted in a whole host of challenges for most retailers and highlighted some complacency in their online / digital channels.
As an enterprise-level vendor, eStar has always understood that scalability and flexibility are key to success online. This has become extremely evident during this period of rapid scale and change.
An eCommerce platform's ability to handle huge volumes and massive scale, allows retailers to meet the extraordinary customer demand. And when a site can handle scale it allows the business to focus on maximising the opportunity. This is where flexibility matters. A platform that is rigid and inflexible makes it hard to adapt to meet a retailers' specific needs, and that becomes very evident in times of significant and rapid change. Again having flexibility baked into the eStar platform has allowed our clients to excel in this area as well.
Moreover, a strong partnership, with a focus on client success, is critical. This is precisely why eStar works consultatively to problem solve together with our clients and are able deploy changes quickly and efficiently.
We've been really excited to see our clients develop some really interesting initiatives and solutions during the pandemic, several supported by functionality built into our platform.
For example, several of our clients increased the service levels of their online channel and leveraged our MOTO (mail order telephone order) module to take orders over the phone. This was especially helpful to new customers that hadn't yet used the online channel to make a purchase with the brand.
Other great initiatives included:
Live Video showcasing products across Facebook & Instagram;
Influencers videos doing workouts with the company's products
Email marketing shifted from purely ecom to tips, advice, stories e.g. recipes, staying positive, exercise etc…
Altered delivery thresholds or removed minimum spends for free delivery
Extended return periods.
It is clear that the impacts to the retail landscape and consumer will be long lasting. It has been the largest jump in online sales in history. Some pundits are suggesting that online retail has fast forwarded by five years in the space of three months. And if it wasn't already obvious, every retailer needs to take their online channel very seriously. Those that have hit issues need to consider whether they have enough scale and capacity in their systems and processes to succeed and be profitable in the long term. If not, please get in touch. We'd love to help.