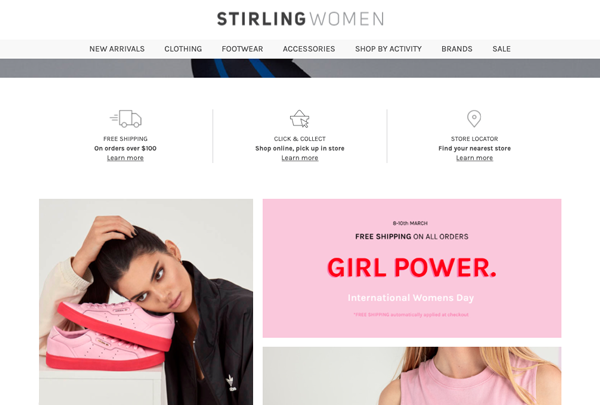 Congratulations Stirling Sports on your phenomenal online success and Stirling Women for your new site!
As Stirling Sports work on a Franchise model, the eCommerce solution eStar built for them includes a custom-built Pricing/Product/Stock integration and a sophisticated Order Routing solution that dispatches the orders from the right store locations. Part of their solution also includes a custom Franchise Filter to ensure all Franchisees benefit from Online orders which is configurable based on fulfilment resource of the store. Stirling Sports also use Click and Collect, Online Vouchers, Blog, AfterPay and LayBuy.
The Stirling Women site went live recently and is an offshoot of the Stirling Sports brand with 2 physical stores today but soon to be more. The Stirling Women site is a satellite site off the Stirling Sports administration module and it uses Order Routing, and other custom Pricing/Stock/Pricing integration.
https://www.stirlingsports.co.nz